About XAGY
Xi'an Gangyan Special Alloy Co., Ltd. A major large precision alloy manufacturer in China, is located in Xi'an High-tech Industrial Development Park, Shaanxi, which is a high-tech company engaged in both production and scientific research. The company was certified by the ISO9001-2008 quality system in June 2005. In June 2000, it was certified as high-tech company by Shaanxi Provincial Department of Science & Technology. In 2005, Shaanxi Provincial Development and Reform Commission identified the major businesses of the company as the industries that the country mainly encourages and develops.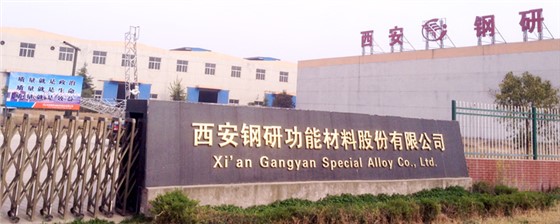 XAGY products
Xi'an Gangyan Special Alloy Co., Ltd, has been committed to the R & D and production of precision alloy (Metallic functional materials), High temperature alloy and stainless steel for military use, which provides domestic and foreign customers with quality products that strictly conform to the national standard of China as well as standards of other countries like America. Among all its products4J29 Kovar、4J36 Invar、4J50 FeNi47 and Alloy 52、1J22 Hiperco 50A、2J4、2J10、2J07、2J11、2J12、3J21 Elgiloy、UNS N06625、UNS N07718、UNS N06625,UNS N07718 are widely recognized by customers. The company has altogether more than 280 employees, including 30% of technicians and 51 with senior technical titles.
XAGY development
With powerful production and R&D capabilities. Xi'an Gangyan can develop and produce various kinds of new materials in accordance with the needs of customers. It has a complete set of well-equipped facilities. Over the past 50 years, with continuous efforts and technical innovation, Xi'an Gangyan has developed a mature R&D production as well as domestic and international sales system.
To pursue excellent and surpass oneself is what Xi'an Gangyan has been striving for. We always follow the principle of "quality and technology first, sincere service and observing the contract" and try our best to develop Gangyan into a metallice functional material manufacturer with core competitiveness and continuous capabilities of growth so as to provide all our customers with more and better services and products.